LRP MonsterHornet coaxial 540mm RTF Ready To Fly.
Codice: 220100
Vai all'offerta su eBay.it
Prezzo di listino: €99
Asta pazza eBay a partire da 1€!!!
Elicottero MonsterHornet 540 mm Coaxial Helicopter RTF.
The mother ship of coaxial helicopters – the LRP MonsterHornet is a super size helicopter! Its coaxial design makes it the perfect helicopter for beginners.
The MonsterHornet is extremely easy to fly. Due to its impressing size, it is THE eye-catcher. This indoor helicopter model is already fully assembled and factory tested.
The complete set consists of helicopter, transmitter, LiPo battery, charger, and spare rotorblades. Everything is ready to start.
Due to the counter-rotating rotors, the MonsterHornet features an outstanding flight stability. An additional tail rotor supports the handling of the helicopter and makes flying extremely easy. Furthermore, you can switch the model to a training mode specifically set up for beginners.
Due to its flexible rotor blades and the shock absorbing landing skids, the MonsterHornet is extremely robust. It is also able to absorb some hard touch downs. The control functions up/down, forward/backward, left/right and 360 turning make this helicopter easy to control – like a real helicopter, despite its big size. Discover the fascination of the LRP MonsterHornet. Bigger is Better!
– Easy To Fly
– Built-in gyro
– RTF – Ready To Fly – Fully assembled and ready to fly
– Factory tuned and tested – 100% quality control
– Complete set including: helicopter, transmitter, battery, charger, spare rotor blades
– Stylish looking LED position lights and monster size
– Training mode – helicopter flight mode can be switched between training and regular mode via the transmitter
– Flight stability system
– Crash-resistant design
– Super lightweight mainframe
– Realistic flight characteristics
– 3-channel digital proportional control
– Long flight time – for maximum fun
Caratteristiche tecniche del prodotto:
Type: Coaxial
Length: 620 mm
Rotor Diameter: 540 mm
Control Functions: up/down, left/right, forward/backward, 360 degrees
Weight (ready to fly): 520 g
Gyro: Yes
Remote Control: 27 MHz
Battery: 7.4V – 1300mAh Li-Ion
Training mode: Yes, adjustable
Istruzioni in inglese. Per completare il modello occorrono le batterie per il radiocomando. Il kit non è più presente nel listino del distributore pertanto, nonostante sia nuovo, non è coperto da garanzia.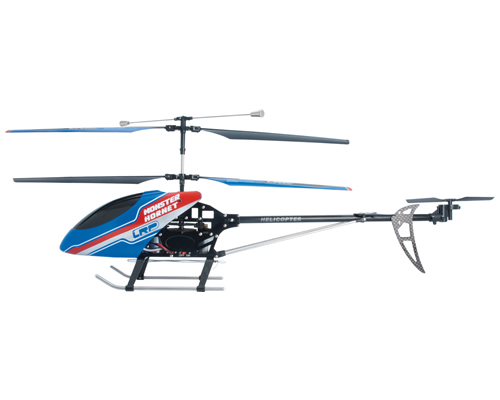 Vai all'offerta su eBay.it