LRP S10 Blast MT White RTR Ready-To-Run

Codice: 120801
Vai all'offerta su eBay.it
Prezzo di listino: €209
Asta a partire da 1€!!!
Automodello LRP S10 Blast MT Monster Truck 2,4 GHz 4WD 1:10 RTR.
Modello pronto all'uso, completo di radiocomando a volantino, batteria e caricabatteria.
The ultimate high-performance monster truck – based on the S10 Blast TX!
The S10 Blast MT is the latest member of the successful S10 Blast family and delivers highest performance from the first second. The RTR package includes a complete set of high-quality LRP components. Like for the other family members, LRP offers a wide range of option parts to tune the S10 Blast MT to your preferences. This tuning ability, together with its agility and its outstanding offroad performance, makes the S10 Blast MT the absolute offroad car for everybody.
The S10 Blast MT is also available as 2.4GHz set including the whole equipment and A2-STX Pro 2.4GHz F.H.S.S. high-precision transmitter.
The fully adjustable chassis is a dream for every basher, while the completely assembled RTR package will convince all beginners. Just unpack the car and it's ready for toughest offroad terrain!
The special large-volume "Big Bore" shocks and the extra-wide VTEC all-terrain high-grip monster truck tyres stand for highest grip and best driveability on every surface. And if you should have even higher ambitions in the R/C scene, LRP offers numerous different tuning and options parts for the S10 Blast MT as well – Standard-, Sport- or Pro tuning. With this possibility, everyone can tune the S10 Blast MT to its specific demands and wishes.
For a first-class show effect, designers of the S10 Blast MT made a point of an appealing and stylish appearance. This monster truck presents itself with a smashing, pre-decaled body shell with metallic effect, in airbrush design.
A multitude of option parts are also available for the S10 Blast TC Mercedes-Benz DTM Edition. With the specific speed kit, the model can be adjusted according to your individual requirements and wishes.
S10 Blast MT – Get it, Bash it, Love it!
Features:
– Fully adjustable all terrain suspension with extra big ride-height.
– Funky airbrush body design, pre-decalised, Monstertruck-All-Terrain body shell.
– Special large-volume "Big Bore" shocks with 4-hole shock pistons for best shock absorbtion on every surface.
– Fully adjustable slipper-clutch for controlled acceleration on any surface and best protection of the drivetrain.
– Completely built with ball bearings.
– Low maintenance and efficient universal drivetrain.
– Battery holder prepared for the use with LiPo and NiMH batteries. Please note: the RTR kit comes with 1600mAh battery pack.
– Left/Right Turnbuckles in front and rear.
– Blue anodized aluminium suspension arm holder front, rear and motor mount.
– The 2.4GHz version contains the complete RTR package including the high-torque 540 size motor, digital LRP speed control, high-performance LRP steering servo, VTEC high-grip competition tyres, long-life LRP rechargeable battery with high-value charger and the A2-STX Pro 2.4GHz F.H.S.S. precision transmittter.
– VTEC all-terrain high-grip monstertruck tyres on spoke wheels with foam inserts for maximum traction and shock absorbing abilities.
– CVD driveshafts front.
– Robust 3-piece tub chassis for best protection of the electronic components, perfect weight distribution and easy maintenance.
– Steel spider differentials front and rear.
Easy to understand and detailed user manual including helpful tips and tricks for beginners.
Istruzioni in inglese. Questo prodotto non è più presente nel listino del distributore quindi, nonostante sia nuovo, non è coperto dalla garanzia.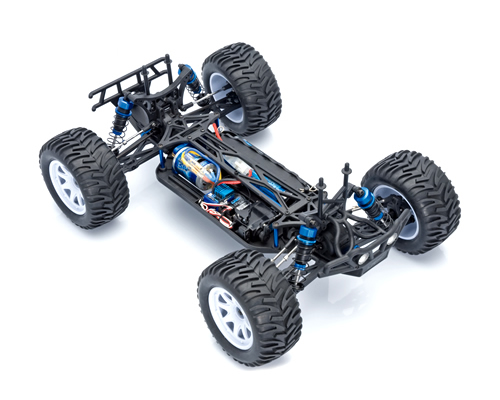 Vai all'offerta su eBay.it