Designed by Pro Boat team driver, Darin Jordan, Pro Boat's Stiletto 29 Brushless Tunnel BND provides users with a race-inspired model that is sure to provide hours of extreme performance. Matched with a one-of-a-kind outboard Brushless motor setup, the Stiletto comes as a Bind-N-Drive model allowing users to select the Spektrum Marine Compatible DSM transmitter of their choice.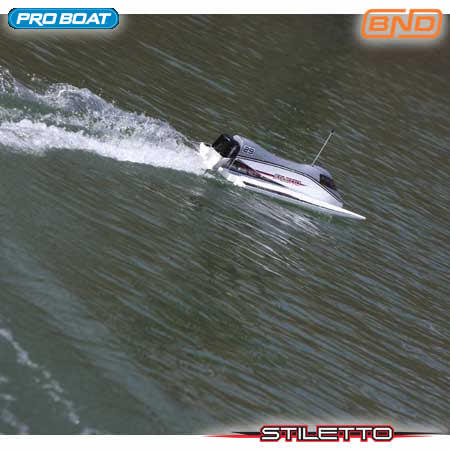 Key Features
– Bind-N-Drive model does not include a transmitter, allowing you the freedom to use the Spektrum 2.4 GHz DSM transmitter of your choice.
– Designed by Pro Boat team driver Darin Jordan.
– Race designed fiberglass composite tunnel hull that fits perfectly into the BL tunnel race class.
– Outboard 1800KV motor for extreme speeds and competitive performance.
– 60-amp Brushless ESC for easy operation and programming (ESC is compatible with LiPo and NiMh batteries and comes preprogrammed for LiPo power).
– New style outboard uses industry standard replacement parts for easy maintenance.
– Includes Spektrum receiver and servo.
Needed to Complete
– Transmitter Spektrum 2.4 GHz DSM
– 7.4 V 2S 25C LiPo or 7.2 V Sub-C with Deans Connector
– Charger