Brushless motors are the most popular motor choice now in the RC Car and model aircraft industry. With their superior power to weight ratios, a large range of sizes, from under 5 grams to large motors rated at thousands of watts, they have revolutionized the market for electric-powered model field. The motor checker is a precision electronic device that is especially designed for measuring the Kv value, RMP, current drawn and checking the function of Hall Effect sensors of a brushless motor. It comes with a 2X16 characters LCD that is able to display real time measuring value of either sensor or sensor-less brushless motor.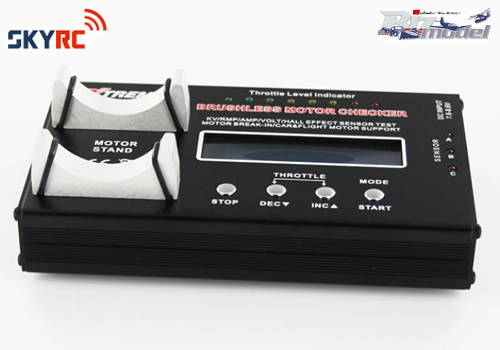 – Input Voltage: 7.6-8.6 V (Suggested to use a 7.4 V 2S1P LiPo Battery).
– LCD Display Screen: Blue Backlight Background, White Text, 16 Characters X 2 Lines.
– Supported Motor: Sensor or Sensor-less Brushless Motor:
(a) Standard 540 Size RC Car Motor: 2.5 Turn or Over, 2 Poles (In-runner Motor).
(b) Flight Motor: Support Sensor-less Brushless Motor, 6 Poles (Out-runner Motor) Current Drawn Less Than 18 A at 8.4 V Without Loading.
Specifications:
– Brushless Motor Checking Kv Measurement / RPM Measurement/ Ampere Measurement.
– Hall Effect Sensor Test Brushless Motor with Sensors Only.
– Motor/Car Diff Break-in Fix Voltage from 2.5 V to 7.2 V or 10 Steps Cycle with ariable Voltage Setting From 2.5 V to 7.2 V Brushless Motor Checking.
Acquista online su Modellismo.it