This is a complete charging package for LiPo, LiIon, LiFe, NiMh, NiCd, Pb Batteries!
If you have been searching for just one RC battery charger to handle all of your charging needs, look no further than the GT Power 606D w/ Built in Power Supply. This charger is AC/DC compatible so it can be plugged into a wall outlet or powered from your power supply or car battery out in the field. This machine can handle charging, discharging, balancing (LiPO/LiON/LiFE cells), cycling and much more. And your charge options are remembered by the charger so it is quick and easy to plug it in and start charging right away.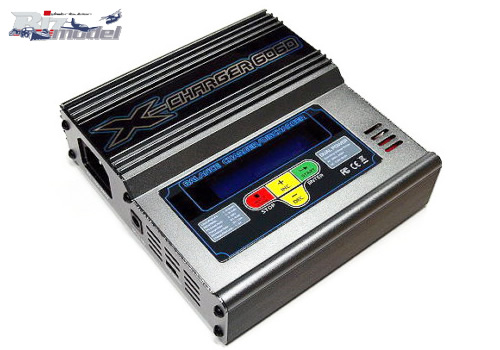 Optimized operating software
When charging or discharging, the 606D has an 'Auto' function that sets the current automatically. This prevents overcharging of Lithium batteries. Every charging program in the 606D is controlled with mutual links and communication to eliminate possible errors, introducing maximum charging safety.
High-power and high-performance circuitry
The 606D employs a circuit that has a maximum output power of 50W. As a result it can charge or discharge up to 15 cells of NiCd/NiMh and 6 series of Lithium batteries with a maximum current of 6.0 Amps.
Cell Balancing
It has an individual-cell-voltage balancer inside. This does not require any extra balancer when charging Lithium batteries (LiIon/LiPo/LiFe) for proper cell voltage balancing. It also balances cells on discharge.
Lithium Battery 'Fast' and 'Storage' Modes
Fast charge reduces the charging time of Lithium batteries. Storage mode will charge or discharge the battery to the proper voltage level for when you plan to shelve the battery for an extended period of time.
Acquista online il caricabatterie X-Charger 606D Dual Power 6 A 50 W AC/DC  su Modellismo.it
Cerca le migliori offerte Bizmodel su eBay
Cerca Bizmodel  su Cercamodellismo.it
Cerca caricabatterie nel mercatino degli annunci