SkyRC Misuratore di passo Digitale Bizmodel modellismo
The digital pitch gauge is designed for application in model helicopters and serves to measure the rotor blade pitch value.
The built in digital gyroscopic sensor is capable of detecting pitch angle, with result displayed through LCD screen, providing a simple and precise way of measuring pitch angle.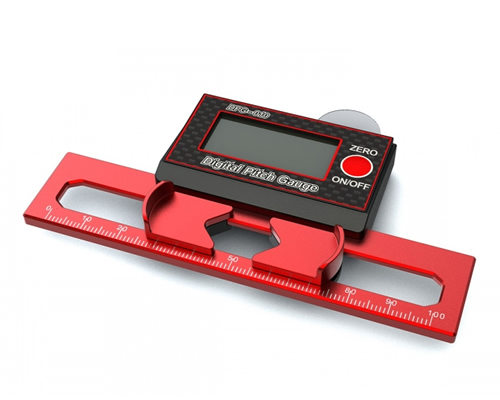 Features:
- Large LCD for easy reading.
- Up to 700 mm blades (Suitable for 250 to 700 size helicopters).
- Fast and accurate measurement.
- Zero function.
- Auto rotating display.
- Auto power-off (Power shuts down after 20 minutes without any movement).
How To Use
Press "POWER" button for about two seconds to turn on the power. For correct pitch measurements, DPG-010 digital pitch gauge must be zeroed before being used. Press "ZERO" button once to zero the gauge.
Please refer to the below instruction to understand how to use DPG-010. After used, Press POWER button for about two seconds to turn off.
Specifications:
- Body Dimension: 113x56x14 mm
- Suitable blade width: 20 mm - 75 mm
- Detectable pitch range: +-90 degrees
- Temperature: 0-40 C
- Resolution: 0.1 degrees
- Current consumption: 2.8 mA
- Battery: CR2032 Lithium x2
- Weight (including battery): 40 g
- Aluminium blade clamp
Acquista online su Modellismo.it